2019 CABO COLLEGIATE RECAP

OKLAHOMA STATE UNIVERSITY SETS TWO RECORDS AS THEY WIN IN CABO
NCAA Champions & #1 ranked OSU men's golf won the 2019 Cabo Collegiate, shooting a historical low score of 32-under (277,269,274 / 820) during the three-day, 54-hole stroke play tournament. OSU shattered their own former record of 29-under during their first win at Querencia Golf Club in 2017. This third consecutive victory in the Cabo Collegiate is a first for any team since our event began in 2010.
OSU was lead by Austin Eckroat, who carded a 3rd round 67 to complete the tournament with a score of 14-under (199), finishing two shots clear of fellow sophomore teammate, Matthew Wolff. Eckroat began his route to earning Medalist honors during the second round when he fired a 63 to move to the top of the leaderboard to start the final round. Wolff shot a bogey-free final round, which included five birdies and an eagle on Querencia Golf Club's 15th hole, to offer an exciting chase between these two roommates and friends. Fellow Cowboy Hayden Wood finished 5-under, 6th place in the field. Senior Zach Bauchou finished inside the Top 20 at 15th.
Arizona State University took 2nd place in Cabo, shooting a 24-under 828 (269, 287, 272) over the three days. Junior Chun An Yu finished 3rd in the field at 11-under 202 (66,71,65) three shots behind winner Austin Eckroat of OSU. Yu kept the excitement going in the final round, where the chase for Medalist honors between Eckroat, Wolff and Yu proved why the Cabo Collegiate is one of college golf's elite tournaments. Four Sun Devils finished in the Top 10: T3 Chun An Yu, T7 Alex del Rey, T10 Blake Wagoner, T10 Mason Andersen.
Baylor University finished 3rd place with a 9-under score overall (278, 277, 288 / 843). The Bears were led by junior Colin Kober, who posted his career-best 5th place finish at Querencia.
Rounding out the Top 10 were (4th) Vanderbilt University, (5th) University of Arizona, (6th) LSU / Louisiana State Univeristy, (7th) University of Mississippi /Ole Miss, (8th) Florida State University, (9th) University of Houston, and (10th) University of Arkansas. Also competing were Rice University, Texas A&M and the University of Alabama.
AUSTIN ECKROAT OF OSU TAKES MEDALIST HONORS IN CABO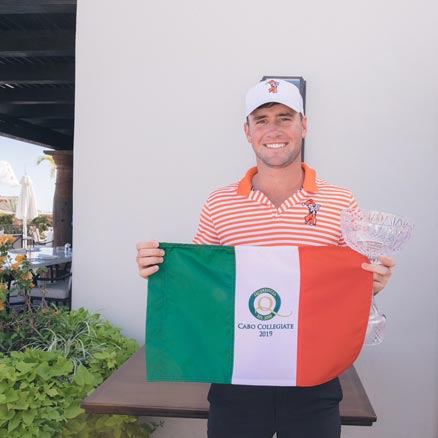 Oklahoma State University sophomore Austin Eckroat won the 2019 Cabo Collegiate at Querencia shooting a 14-under 199. Eckroat shot to the top of the leaderboard in Round 2 after shooting the tournament's single round low score of 63. He followed up during the final round with a 67, where he carded 5 birdies on the back nine, and claimed the trophy ahead of fellow Cowboy Matthew Wolff who finished 2nd at 12-under 201.
Eckroat continued the streak of the OSU golf team taking the Individual win in each of the 7 tournaments played to-date during the 2018-19 season. This was Eckroat's second career collegiate win, but first this season, joining Wolff and Viktor Hovland in the record books as third best total wins on the program's single-season list – and it is only early March. (Fellow OSU teammate & reigning U.S. Amateur Champion Viktor Hovland was not in the Cabo field due to playing in the PGA Tour's Arnold Palmer Invitational)
Chun An Yu of Arizona State University finished 3rd at 11-under, Trevor Werbylo of Arizona finished 4th at 8-under and Baylor's Colin Kober finished 5th at 6-under. Rounding out the Top 10 were: 5th Hayden Wood of OSU (-5); T7 Alex del Rey of ASU, John Pak of FSU, and Luis Gagne of LSU (-4); T10 Blake Wagoner of ASU, Beau Briggs of Ole Miss, and Mason Andersen of ASU (-3). Please visit golfstat.com for all results of the Querencia Cabo Collegiate.